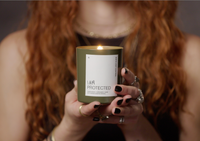 Say it. Own it. Embody it. Manifest it.
What does it feel like to be authentically YOU? What's your story? We asked some of our inspirational and loyal customers how they embody 'I am' as an affirmation.
Read More
Conscious lifestyle brand with a higher purpose.
Paving the way for sustainable, diverse and transformational modern wellness products and experiences.
She's Lost Control is a must visit on Broadway market—and online! This is a brand that offers plenty; from experiences to the mystical and beautiful. A firm favourite of mine, with excellent customer service to boot.

Joanna
I love everything SLC has to offer. Have purchased countless magical tools, done several aura readings and have just always been a big fan! I have had several custom jewellery pieces done there and the service was fantastic!

Jana
I'm a ginormous fan of SLC. I loved coming to their events before March last year and then they became a rock of support with their incredible online events during the pandemic. I love the shop too, and always find myself leaving feeling inspired.

Constance
THE SLC AURA EXPERIENCE
We're delighted to be sharing our unique aura photography and reading at our Broadway Market shopping sanctuary from Wednesday to Sunday! 

Our Aura Photography experience is about celebrating who you are. Each colour reveals something about ourselves. Moving away from the binary, they offer a whole spectrum of the lived experience. 

Delve into the intriguing space between science and mysticism. The SLC aura experience takes you on a journey of self-discovery by capturing a perception of your aura to provide you with something tangible to bring your mind into the present.
READ MORE + BOOK NOW